Brazil Resources Inc. Identifies Large Copper-Gold Mineralized Zone at Artulândia Project in Goias State, Central Brazil
---
September 6, 2012
Vancouver, British Columbia – September 6, 2012 – Brazil Resources Inc. (the "Company" or "Brazil Resources") (TSX-V: BRI; OTCQX: BRIZF) is pleased to announce that recent rock sampling, geophysical and soil geochemical surveys at its Artulândia project have identified an anomalous copper gold zone of approximately 1,000m by 250m, which is open in all directions. The Artulândia project covers 12,000 acres within the Company´s 247,000 acre Pireneus district and is located in Goias state, one of the most prolific mining districts in Brazil.
Stephen Swatton, President and CEO, stated, "Our geological team believes Artulândia has the potential to be a significant discovery, made with a modest budget in an area that has not had previous mining or exploration activity. Based on preliminary exploration data, similarities are being drawn with Yamana's Chapada Copper-Gold Mine to the north. However, we acknowledge that the Artulândia project is in the early stages of exploration and, therefore, more work, including drilling, needs to be done to fully realize and understand this project."
Highlights from the new results obtained at Artulândia include:
Target ART-1; Further follow-up work completed on target area ART-1 has confirmed new mineralized outcrops, with increased copper values of up to 0.81%, gold values of up to 2.3 g/t and silver values of up to 344 g/t, plus additional anomalies of lead-zinc. A geophysical survey has identified a main IP anomaly trending along strike for approximately 400m, which coincides with the geochemically defined gold-copper zone identified by previous soil and rock chip sampling. ART-1 is considered a priority, and the next phase of exploration is expected to include diamond drilling of this target. Geochemical sampling indicates that the mineralization extends for an additional 600m to the east of the main IP anomaly (Targets ART-2 and ART-3).
Target ART-5; A new zone located approximately 750m NE of ART-1 has been discovered comprising gossans trending along strike for approximately 700m. These gossans are similar to those found at target area ART-1. A total of 50 rock geochemical samples have been collected from target area ART-5 and sent to the laboratory to confirm the presence of mineralization.
In its news release dated April 26, 2012, Brazil Resources announced the first results of a geochemical sampling program at Artulândia and identified eight target areas (ART-1 to ART-8) with elevated copper, gold, lead and zinc values surrounding a large intrusive granitoid with rock grab sample results of up to 1.2 g/t gold, 0.7% copper and greater than 2% lead-zinc in separate samples.
Since May 2012, follow-up geochemical sampling and detailed geological mapping programs have been completed on target areas ART-1 and ART- 5. In addition a geophysical IP/Mag ground survey has been completed and a trenching program has been initiated at ART-1. To date, assay results are available for a total of 603 rock grab samples, 1,581 soil samples and 62 stream sediment collected from target areas ART-1 and ART-5.
Based on petrographic and detailed geochemical and geophysical data interpretation, Company geologists believe the geology at Artulândia may be a porphyry copper deposit. Therefore comparisons are being drawn with the Chapada Mine operated by Yamana Gold, which is located approximately 140 km north of the Artulândia project. Chapada produced 135,000 oz of gold and 166 million pounds of copper in 2011 as publicly disclosed by Yamana. Readers should be aware that the comparison to Chapada contained herein is based on preliminary exploration by the Company to date and substantial additional exploration is required to define the extension, continuity and geology of the mineralized zones at Artulândia, which does not currently have any defined resources, and, therefore, the results at Chapada are not necessarily indicative of the potential of the Artulândia project.
The geophysical survey was performed by Fugro Geophysics, and processed by Reconsult Geofísica. The IP-resistivity survey comprised 7.65 line kms, and the magnetics survey comprised 23.35 line kms. The grid lines were oriented north-south and each line was 100 meters apart.
Future Work:
The Company plans to further its exploration efforts on all the remaining targets. A diamond drill program to investigate Target 1, and possibly Targets 2 and 3, is currently under consideration. Targets ART-4, ART-5 and ART-6 have been outlined by the recent geophysical survey and will be investigated by additional rock sampling and mapping. The current geochemical and geophysical results only represent the investigation of two targets (ART-1 and ART-5) of the eight geochemical targets initially identified by the Company.
FIGURES 1 and 2 – Geophysical (IP-Magnetic) Targets ART-1 to ART-6 plotted over Mag Analytical Signal Grid Image (left) and IP anomalies trends over Cu in rock/soil geochemical anomaly (right).
Target 1 is defined by a 400m long high IP trend, the inversion sections show that this trend could be dipping from west to east, going from a superficial response to a deeper signature. This possibility, if proven correct, could add another 600m to this target, effectively extending Target 1 to the eastern boundary of Target 2 (Figure 2).
Figure 3 – Detailed Geological Map with soil anomalies, selected rock sample results and location of geophysical Targets 1, 2 and 3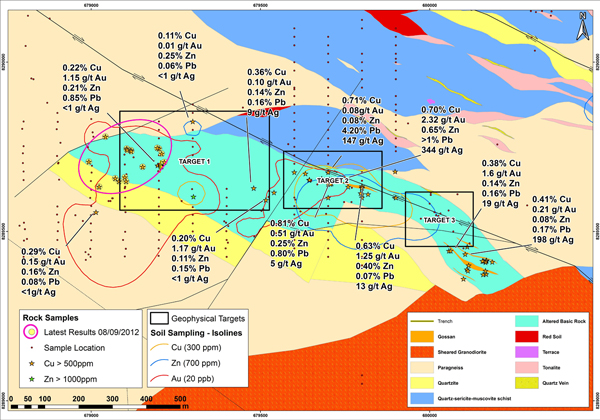 TABLE 1 – Anomalous Rock Samples Results for Cu-Au-Zn-Pb-Ag at Artulândia Project as of August 31, 2012
Sample

Lithology

Cu (ppm)

Au
(ppb)

Zn (ppm)

Pb
(ppm)

Ag (ppm)

11904

Gossan

8123

513

2512

8047

5

11161

Volcanic

7116

79

781

42000

147

11907

Gossan

6991

2329

6551

>10000

344

11145

Gossan

6813

129

2152

1907

-1

11144

Gossan

6628

335

2538

1375

18

11141

Gossan

6350

1250

4075

747

13

11848

Gossan

4897

128

1212

1248

15

11834

Gossan

4182

84

697

695

8

11847

Gossan

4126

210

894

1737

198

11829

Gossan

3872

1646

1372

1620

19

11905

Gossan

3728

792

3453

5885

12

11444

Laterite

3623

97

1482

1619

9

11919

Gossan

3458

247

1965

1011

13

11906

Gossan

3421

364

3093

5003

10

11469

Volcanic

3329

31

35300

3900

16

11897

Breccia

3315

768

1194

2287

10

11835

Gossan

3275

36

668

630

-1

3001

Quartz Vein

2946

154

1652

802

-1

11928

Gossan

2914

116

1836

1072

-1

11895

Breccia

2892

219

1239

3219

1

11925

Gossan

2828

198

2751

1018

-1

11828

Gossan

2762

46

828

802

-1

11927

Gossan

2636

170

3547

5321

-1

11933

Gossan

2630

199

1979

967

16

11931

Gossan

2591

176

2324

502

4

11924

Gossan

2460

99

2529

1346

-1

11912

Gossan

2373

262

1843

1367

1

11930

Gossan

2340

295

2059

470

8

11900

Breccia

2332

495

522

1729

6

11923

Gossan

2297

148

1392

1182

-1

11898

Breccia

2274

406

892

1761

5

11914

Gossan

2272

1149

2092

854

-1

11899

Breccia

2261

556

713

1544

4

11929

Gossan

2257

61

1430

1311

-1

11932

Gossan

2152

76

1828

534

5

11911

Gossan

2146

186

1336

805

-1

11910

Gossan

2142

148

1160

829

-1

1191

Laterite

2075

1168

1078

1547

-1

11467

Quartzite

1908

71

1213

4302

6

11934

Gossan

1884

32

2326

411

123

11120

Quartzite

1874

61

4203

553

7

11922

Gossan

1868

109

857

1390

-1

11926

Gossan

1847

122

1895

874

19

11121

Volcanic

1787

138

856

5456

11

11921

Gossan

1774

81

1659

1369

-1

11844

Gossan

1711

32

693

919

-1

11167

Volcanic

1620

49

1233

688

-1

11896

Breccia

1604

316

549

1670

4

11833

Gossan

1568

41

1172

483

-1

About Brazil Resources Inc.
Brazil Resources is a publicly listed mineral exploration company with a focus on the acquisition and development of projects in emerging producing gold districts in Brazil and other parts of South America. Currently, the Company is advancing its Montes Áureos, Trinta and Maua Gold Projects located in the Gurupi Gold Belt in the state of Maranhão in northeastern Brazil, and its Pireneus Gold Project in Goias State, in central Brazil. Brazil Resources is also seeking to acquire and develop additional gold properties within Brazil and other locations in South America.
For further information, please contact:
Patrick Obara
Telephone: (855) 630-1001
[email protected]
Note Regarding Scientific and Technical Information
Paulo Pereira, the Company's Vice President of Exploration has supervised the preparation of and reviewed the technical information and verified the data contained in this document. Mr. Pereira holds a Bachelor degree in Geology from Universidade do Amazonas in Brazil, is a qualified person as defined in National Instrument 43-101 and is a member of the Association of Professional Geoscientists of Ontario.
The reconnaissance sampling at the Artulândia project was performed using stream sediment sampling to cover the entire area of the claim block. Streams sediment samples were collected using 10 liters constant volume samples and the collected material was panned in the field for gold color counts. Follow-up sampling was completed on anomalous areas defined by the results of the stream sediment sampling. Soil samples were collected on regular grids (200m x 50m) at 0.30 m depth. The material excavated in each soil sampling location was homogenized and a 2 kg representative sample was collected. Rock samples (hand-specimen size) were collected during geological mapping over the entire area and on target area ART-1 rock samples were collected over regular grid (100m x 25m) and on representative mineralized outcrops.
Brazil Resources operates QA/QC controls of sampling and analytical procedures. For geochemical sampling (stream sediment, soil, rock) duplicates are inserted in the sample batches at a reason of one duplicate for every ten samples. Samples from the Artulândia project are transported by the company staff from the project by road to SGS-Geosol Labs in Goiania, Goias for preparation and pulps are sent to SGS-Geosol Labs in Vespasiano, Minas Gerais, Brazil in secured and sealed sample bags for analysis. Samples are assayed by the lab for gold using a 50 gram fire assay with AAS finish and ICP for 37 elements.
Forward Looking Statements
This document contains certain forward-looking statements that reflect the current views and/or expectations of the Company with respect to its performance, business and future events, including statements regarding the Company's beliefs regarding future exploration of the Artulândia project and exploration plans in respect of its projects. Forward-looking statements are based on the then-current expectations, beliefs, assumptions, estimates and forecasts about the business and the markets in which the Company operates, including that: the current price of and demand for minerals being targeted by the Company will be sustained or will improve; the Company's current exploration programs and objectives can be achieved; financing will be available if and when needed on reasonable terms; and the Company will be able to identify and acquire additional mineral interests on reasonable terms or at all. Investors are cautioned that all forward-looking statements involve risks and uncertainties, including: that the Company has a limited operating history; that resource exploration and development is a speculative business; that the Company may lose or abandon its property interests; that the Company's properties are in the exploration stage and without known bodies of commercial ore; that the Company may not be able to obtain all necessary permits and approvals on any of its properties; that environmental laws and regulations may become more onerous; that the Company may not be able to raise additional funds when necessary; potential defects in title to the Company's properties; fluctuations in currency exchange rates; fluctuating prices of commodities; operating hazards and risks; potential inability to find suitable acquisition opportunities and/or complete the same and other factors listed in the Company's public filings, including its Management's Discussion and Analysis for the year ended November 30, 2011. These risks, as well as others, could cause actual results and events to vary significantly. Accordingly, readers should not place undue reliance on forward-looking statements and information. There can be no assurance that forward-looking information, or the material factors or assumptions used to develop such forward looking information, will prove to be accurate. The Company does not undertake any obligations to release publicly any revisions for updating any voluntary forward-looking statements, except as required by applicable securities law.
Neither the TSX Venture Exchange nor its Regulation Services Provider (as that term is defined in the policies of the TSX Venture Exchange) accepts responsibility for the adequacy or accuracy of this new
---
September 6, 2012